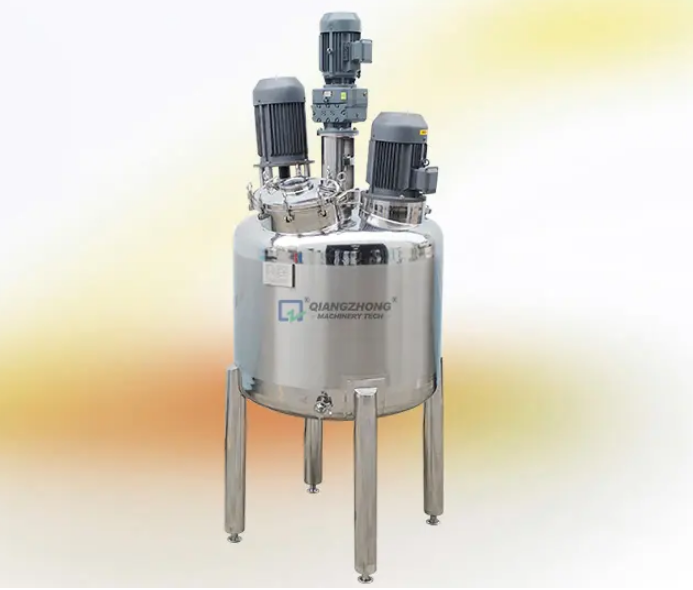 PRODUCT PARAMETERS Technical file support: random provide equipment drawings (CAD), the installation drawing, the product quality certificate, installation and operating instructions, etc.
Volume

(L)

Power (kw)

Diameter (mm)

Agrtator Speed (r/min)

Disperser Homogenizer Speed (r/min) Speed (r/min)

Pressure

Temperature

100

1.5

550

36-82

1440

2880

<0.09Mpa

(atmospheric

pressure)

< 160°C

300

2.2

800

500

3

900

1000

4

1200

2000

7.5

1400

3000

11

1600

5000

22

1800
PRODUCT STRUCTURE This tank is capable of distributing one or more phases to another continuous phase efficiently, quickly and uniformly, in which case the phases are mutually insoluble. Due to the high tangential speed and high-frequency mechanical effects generated by the high-speed rotation of the rotor, the material is subjected to strong mechanical and hydraulic shear, centrifugal extrusion, liquid layer friction and impact in the narrow gap between the stator and the rotor. A combination of tearing and turbulence. Therefore, the incompatible solid phase, the liquid phase, and the gas phase are uniformly and finely dispersed and emulsified under the action of the corresponding mature process and an appropriate amount of additives, and the high-frequency cycle reciprocates to finally obtain a stable high-quality product.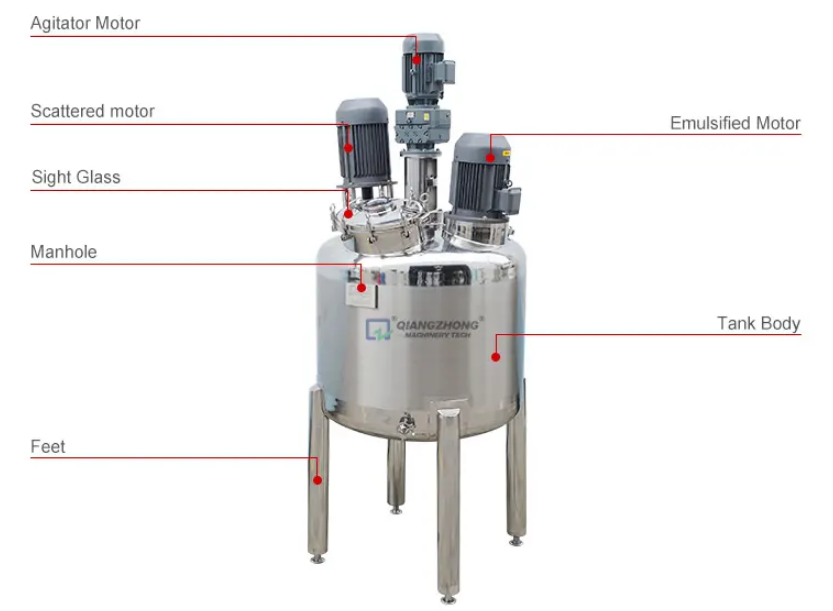 ●The mixing tank mainly consists of tank body,cover,agitator,supporting feet, transmission device, shaft seal device, etc. ●Tank body.cover,agitator and shaft seal can be made of carbon steel, stainless steel or other materials according to specific requirements. ●The tank body and the cover can be connected by flange seal or welding.Also they could be with port: for purpose of feeding,discharging.observation,temperature measurement, pressure measurement, steam fractionation, safety vent, etc. ●The transmission device (a motor or a reducer) is installed on top of the cover,and it can drive the agitator inside the tank is by stirring shaft. ●The shaft seal can be used mechanical seal, packing seal or labyrinth seal as requested. ●The agitator type could be impeller,anchor, frame,spiral type, etc.according to the requirements of different application.