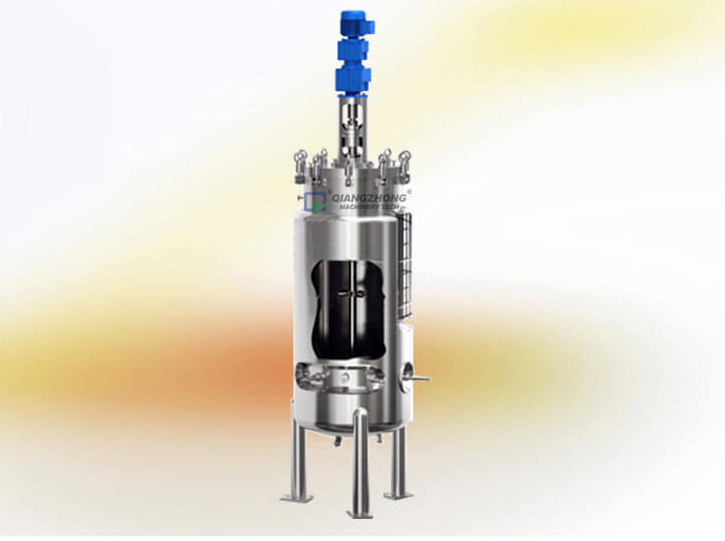 Product Parameters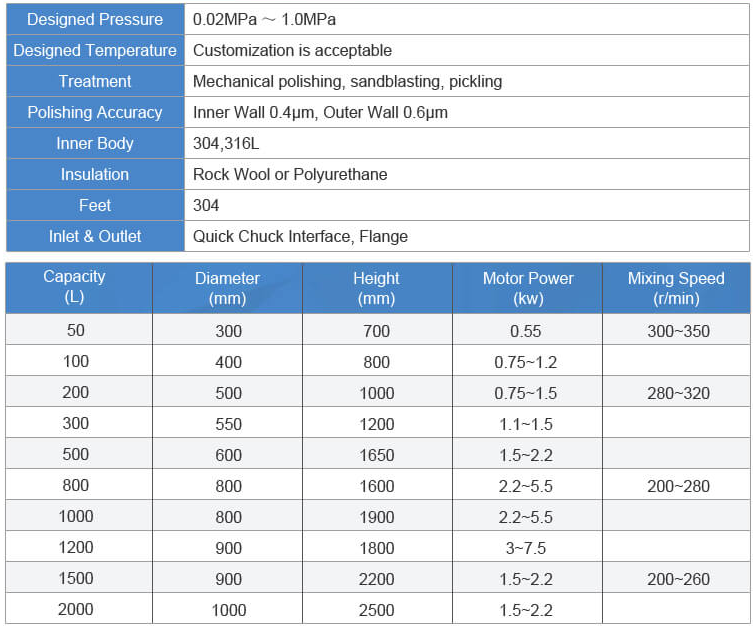 Product Structure
Biological fermentation tank adopts a vertical circular structure with diameter height ratio of 1:2-1:3 and large viewing angle liquid level observation mirror in the tank. 12V safety lamp owns acid and alkali corrosion. Mirror polishing of the inner surface reaches less than 0.4 m Ra and the outer surface is finished by mirror polishing or matting. More, the transition section of the inner surface adopts arc transition, no dead angle, easy to clean. Water bath or electric heating in the jacket can be designed according to customer demand. Also it is equipped with adjustable mechanical stirring, digital speed control, the standard 2- layer disc shaped turbine impeller and 1-layer effective defoaming oar, Besides, flat blade, oblique blade and curved blade are optional. Full-closed design ensures material mixed, ferment in sterile condition. Liquid coefficient ranges from 65% to75%, optimal 70%. The whole tanks features advanced structure and simple operation.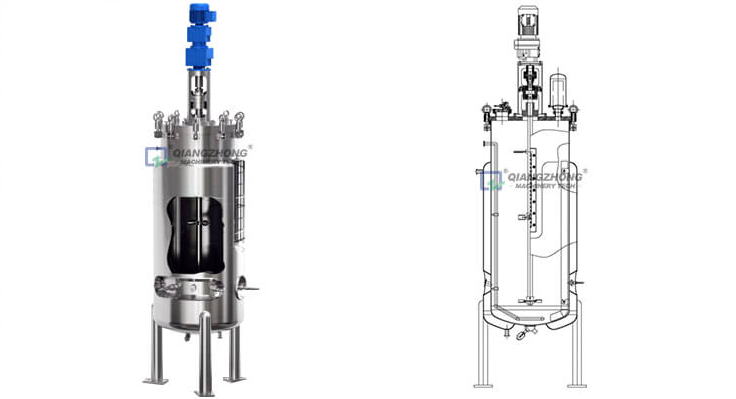 Control Method
• PLC control: branded touch screen operator interface, special PLC automatic control program of fermentation parameters. Temperature, PH, DO, defoaming, stirring speed, feeding system are real-time controlled
•PC control: the remote real-time monitoring, special configuration software, historical data query and analysis, data analysis, curve conveniently.
Product Features
•Capacity is available from 50L to 2,000L, and other capacities also could be customized as requested.
•Inline Sterilization, safety and reliability, no leakage risk.
•The inoculation method is reliable, and the flame inoculation and differential pressure inoculation are optional.
•Large viewing angle liquid level observation mirror reaches the clear view. Floor type tank structure, easy to install and dismount, realizes a reasonable design and practical and beautiful appearance.
Control System
•Ventilation Contro丨(DO): deep ventilation, air intake in the bottom; online detection, range of 0〜100〇/〇 or 0〜200%; imported DO electrode, can be online high temperature steam disinfection; can be associated with the speed and ventilation volume automatic or manual control;
•Pressure Control: pointer type pressure gauge in top exhaust port displaying tank pressure, manual adjustable stainless steel valve; optional imported pressure transmitter and automatic control valve to achieve automatic pressure tank pressure control
•Acid and Alkali Control (PH): online detection, range 2~12; imported PH electrode, can be online high temperature steam disinfection; can be with the peristalsis pump or automatic control valve with acid or alkali control
•Temperature Control(T): online detection, range 0-150 degrees Celsius, imported temperature sensor, digital setting, automatic / manual switching, constant temperature water, cooling water, chilled water and other different conditions to be selected;
•Feeding Control: a creeping pump or automatic control valve for feeding control
•Defoaming Control: conductive foam electrode, automatic alarm or automatic defoaming agent feeding.
Stirring Paddle Type
Common Structure of the Stirring Paddle
We will select the appropriate stirring paddle type and stirring speed according to the characteristics of the mixing material and the user's process requirements.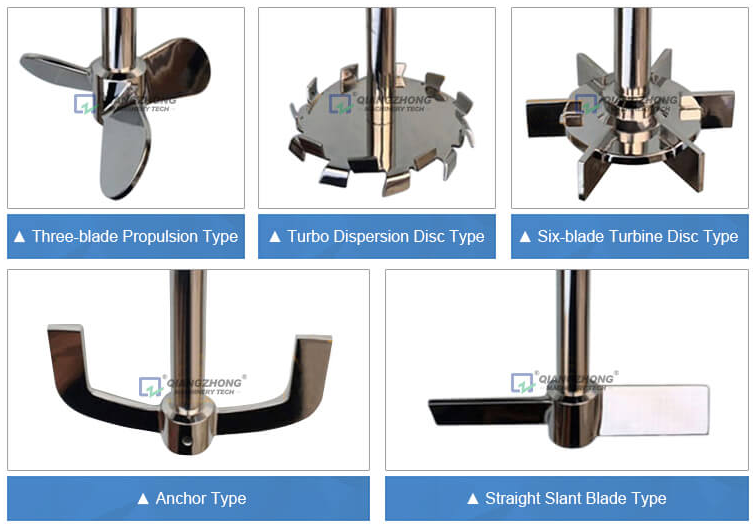 In addition to the above types of stirring paddles, some mixing tanks may also be equipped with a high shear emulsifier or a vane type dispersing mixer Its strong mixing force can quickly disperse and mix the materials.