PRODUCT PARAMETERS
Technical file support: random provide equipment drawings (CAD), the installation drawing, the product quality certificate, installation and operating instructions, etc.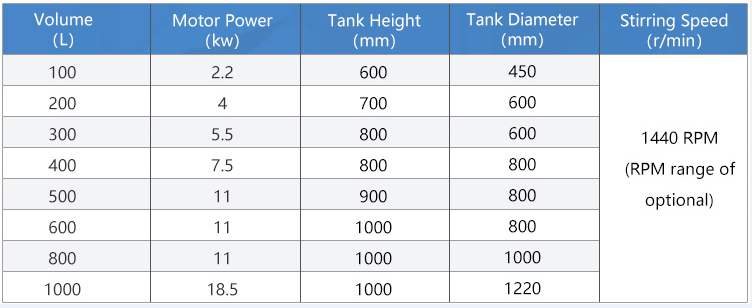 PRODUCT STRUCTURE
The equipment uses high-speed bottom mixing device of impeller and can well dissolute toffee, powder additives, and etc, and it's currently the most productive model of high-speed mixing tank. The equipment is characterized by short time of mixing and homogenization, without affecting performance of materials, ensuring original flavor, simple operation, small size and easy installation. It is an indispensable equipment for dairy, beverage and pharmaceutical industries.
At bottom of tank, rotor rotates at high-speed and produces high-pressure centrifugal flow with large flow rate. Afterwards materials pass through tiny gap between stator and rotor by strong shearing force, accompanied by other forces of impact, extrusion and grinding. At the same time, the high-pressure centrifugal flow makes materials rotate in vortex flow. After circulation of around 10 minutes, materials are quickly dissolved, dispersed, crushed, ground, mixed, homogenized and emulsified to form a fine slurry.
HYG series high-speed mixing tank has a much better mixing performance compared with traditional mixing equipment. Traditional mixing equipment takes a long time to process and mix high-caking materials and materials of hard particles. But it becomes much easier to process them by JBG-type high-speed mixing tank instead. For JBG type high-speed mixing tank, all main parts are made of high quality stainless steel including tank body, rotor, stator, pipe fittings, valves, and etc. and both inner and outer surface are polish treatment. Mechanical seal is with large compensation structure, making the tank wear-resistant, durable and anti-damage. For JBG/X high-speed mixing tank, seal part can be opened to facilitate washing gaps of the equipment, suitable for processing organic, perishable materials and also mixing easy-to-dry materials.