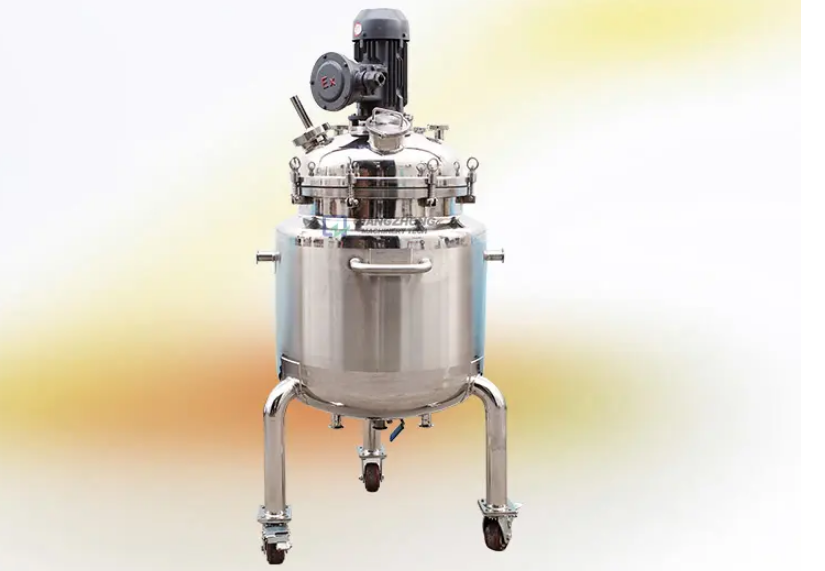 PRODUCT PARAMETERS Technical file support: random provide equipment drawings (CAD), the installation drawing, the product quality certificate, installation and operating instructions, etc.
Volume (L)

Motor Power (kw)

Diameter (mm)

Stirring Speed (r/min)

Tank Pressure (Mpa)

100

2.2

500

1440/2880

Atmospheric

pressure

200

4.0

600

500

7.5

800

1000

7.5

1000

1500

11

1200

2000

11

1200

2500

18.5

1400

3000

22

1400

4000

37

1500

5000

45

1500
PRODUCT STRUCTURE This tank is also known as high-speed emulsifying tank or high-speed dispersion tank, with advantages of energy saving, corrosion resistance, strong production capacity, simple structure and convenient cleaning. It is mainly used in cream, gelatin monoglycerin, milk products and sugar drinks, medicines, etc. It performs high-speed stirring and uniform dispersion of materials, and is an indispensable equipment for manufacturing dairy products, beverages, and pharmaceuticals. It is a kind of high-performance homogenization and emulsification equipment suitable for continuous production or recycling processing and materials that need to be dispersed, emulsified, and broken. The main configuration includes emulsifying head, air respirator, sight glass, pressure gauge, manhole, cleaning ball, caster, thermometer, level gauge and control system Also we offer OEM solution according to clients' requirements.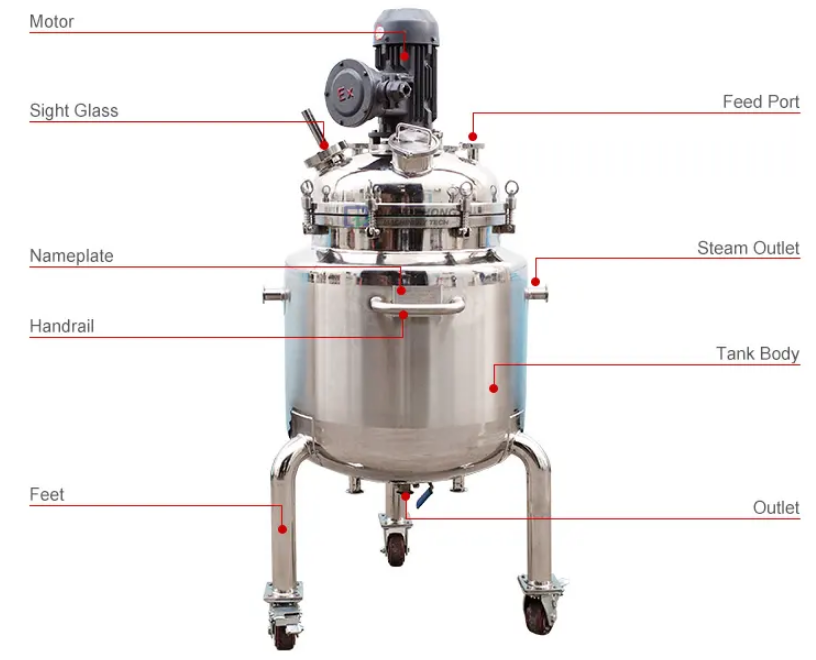 ·The mixing tank mainly consists of tank body, cover, agitator,supporting feet, transmission device, shaft seal device, etc. ·Tank body, cover, agitator and shaft seal can be made of carbon steel,stainless steel or other materials according to specific requirements. ·The tank body and the cover can be connected by flange seal or welding. Also they could be with ports for purpose of feeding,discharging,observation, temperature measurement, pressure measurement steam fractionation, safety vent, etc ·The transmission device (a motor or a reducer) is installed on top of the cover, and it can drive the agitator inside the tank is by stirring shaft. ·The shaft seal can be used mechanical seal, packing seal or labyrinth seal as requested. ·The agitator type could be impeller, anchor, frame,spiral type, etc.according to the requirements of different application.