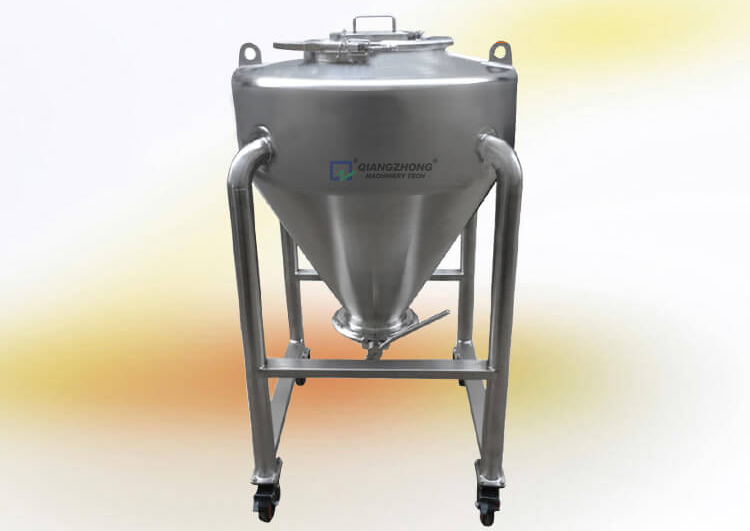 Product Structure
Optional Structure:
1 .Square Bunker Body: Upper square rounded corner, lower rounded cone
2 .Round Bunker Body: Upper cylinder, lower cone
Application:
Mainly used for powder sealed storage and transfer, ensuring that the powder is safe stored and free from moisture, effectively preventing dust pollution. It is GMP-compliant and is applicable in the pharmaceutical, food and other industries.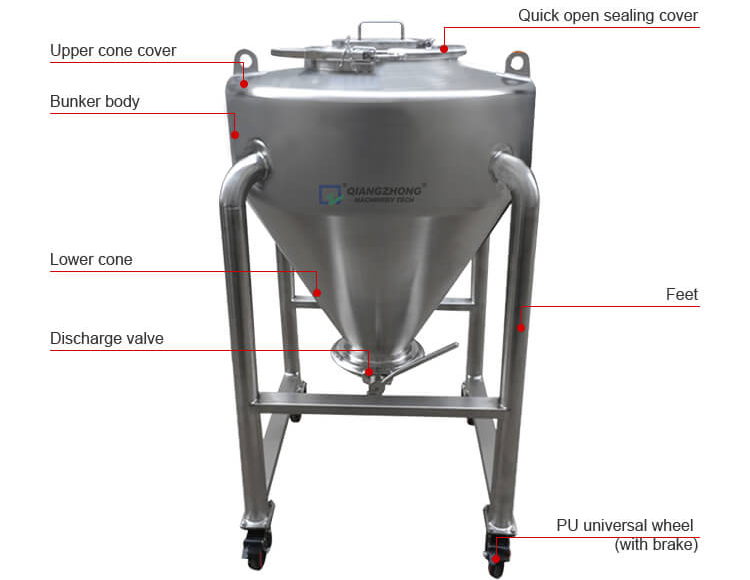 1.Made of high quality stainless steel 304 or 316L.
2.All comers are R-angle arc transition, no dead angle; powder is easy to flow without residue, easy to clean, and beautiful appearance.
3.Advanced sheet metal process and weld seam welding technology. The inner surface is mirror- polished (roughness Ra 乞 0.2 〜0.28pm), and the outer surface is matte finish.
4.Stamped-clamp type bucket cover, quick lock structure, easy to open. Equipped with medical grade silicone sealing ring, good sealing performance.
5.The bottom of the cone is equipped with a special large-diameter quick-loading butterfly valve, which is light and easy to open. With pharmaceutical grade silicone sealing ring, it can be universally equipped, easy to disassemble and easy to dean. The operating handle is equipped with automatic positioning and locking function, which is sensitive and accurate, and prevents misoperation.
6.Four PU moving casters (including 2 universal belt brakes) are light and convenient mobile, well protecting the floor from damage.
7.The bunker body has sufficient strength and will not be deformed.
8.Mobile mode: hydraulic truck, forklift, manual.
9.Flow-assisted vibrator: electric or pneumatic, optional; it can break the powder arching, blockage, prevent the powder from sticking to the bunker, help the powder flow, and maintain the continuity of the production process.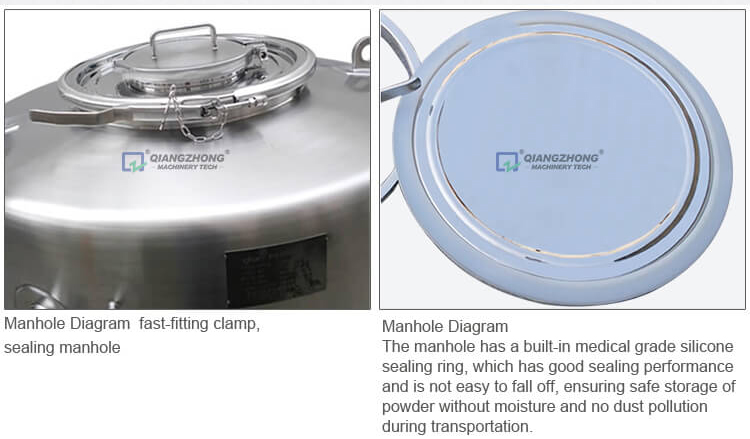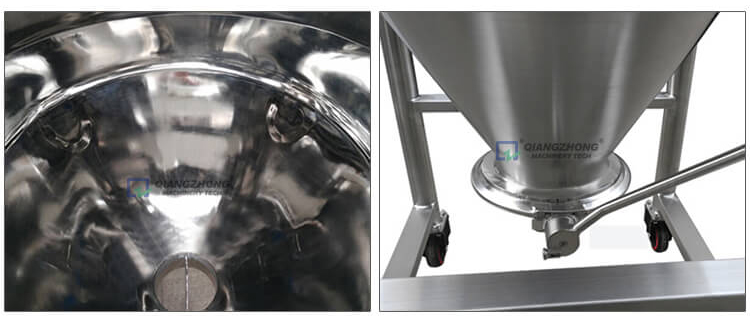 Structural Features:
1.All corners are made of R-angle arc transition, 门 o S3nit3ry corners.
2.The inner surface of bunker body is mirror polished with a roughness Ra s 28 pm.
3.Smooth inner surface and large cone bottom design make the powder discharge smoother.
Discharging butterfly valve features:
1.Built-in medical grade silicone sealing ring, good sealing performance.
2.The switch is light, easy to assemble and disassemble, and the products of the same specification can be used interchangeably.
3.The operating handle has a switch positioning and locking function to prevent misoperation.