Tiltable Steam Heating Jacketed Kettle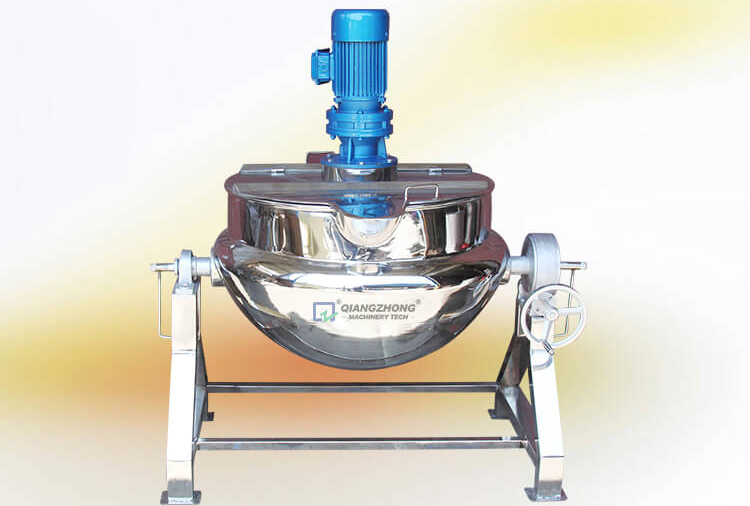 The Jacketed Kettle is also known as steam kettle, cooking kettle, jacketed steam kettle, mainly consists of kettle body and feet.
The kettle body is double-layer structure composed of both inner and outer spherical kettle, with 380V electric power as heat source. Inner layer is assembled with electric heating rods, electric thermocouple and heat conducting oil (self-contained), heating up to 320°C for the max. An electric control box is equipped with automatic temperature control system. The kettle is featured with such advantages as wide heating area, uniform heating, high thermal efficiency, short boiling time, easy to control heating temperature, etc.
PRODUCT PARAMETERS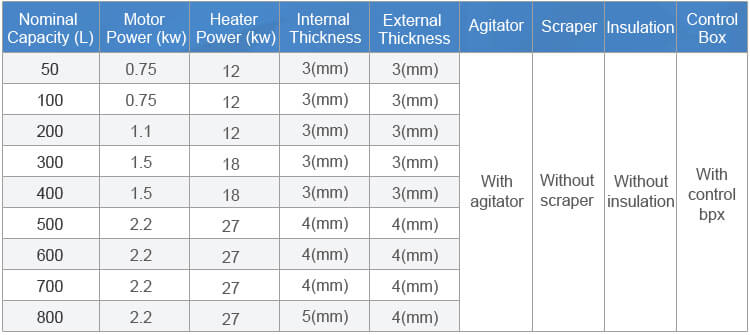 ● Mixing power in the chart is standard, while customized requirements are acceptable.
● Kettle work pressure ≤0.09Mpa and could be customized.
● In order to confirm most suitable jacketed kettle, please provide these information: nature of material, working pressure, working temperature, and any special requirements.
● File Support: structure drawings (PDF) and manual could be provided.

PRODUCT STRUCTURE
This jacketed kettle mainly consists of rack, kettle body, burner, agitation paddle, tilting equipment and gas pipeline. The rack is used for installing and fixing kettle body and other equipment. The kettle body is main part of making food and the burner is for heating kettle body. Agitation paddle can stir and fry food automatically instead of artificial agitator. The tilting equipment can overturn the kettle body.
● Structure Type: Tiltable Jacketed Kettle, Vertical (fixed) Jacketed Kettle
● Heating Type: Electric Heating Jacketed Kettle, Steam Heating Jacketed Kettle, Gas Heating Jacketed Kettle
● Mixing Type: with agitator, without agitator
● Whether to be with/without agitator depends on processing needs.
PRODUCT SHOWCASE