Mixing Tank 2000L
We specialize in manufacturing food and medical equipment, and know you better! Widely used in food, beverage, pharmaceutical, daily chemical, petroleum and chemical industries、
PRODUCT PARAMETERS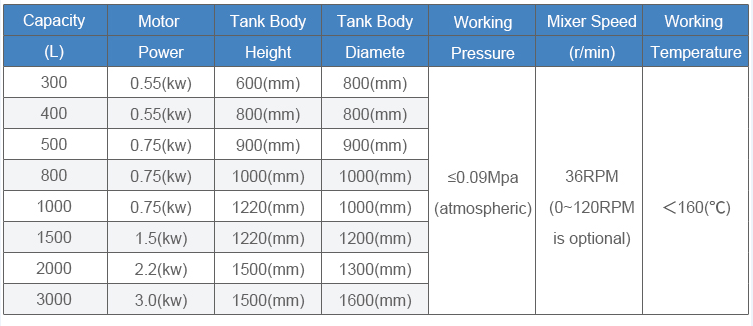 Stainless steel mixing tank is widely used in such industries of coatings, pharmaceuticals, building materials, chemicals, pigments, resins, food, scientific research and etc. The equipment can be made of stainless steel 304 or 304L according to requirements of users* products, also heating and cooling devices are optional to meet different needs of production and process. Heating mode has two options of jacket electric heating and coil heating. The equipment has features of reasonable structure design, advanced technology and durable, simple operation and convenient use. It is an ideal processing equipment with less investment, quick operation and high profit.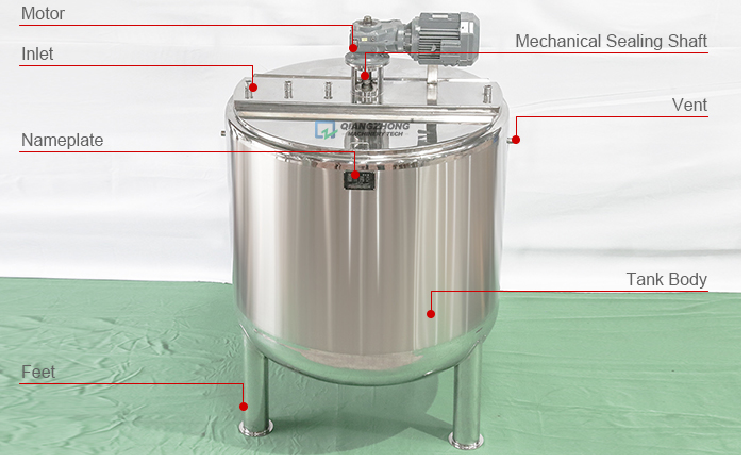 • Mixing tank mainly consists of tank body, cover, agitator, supporting feet, transmission device and shaft seal device.
• Tank body, cover, agitator and shaft seal can be made of carbon steel, stainless steel and other materials according to specific requirements.
• Tank body and cover can be connected by flange seal or welding. Also they could be with holes for purpose of feeding, discharging, observation, temperature measurement, manometry, steam fractionation and safety vent.
• Transmission devices (a motor or a reducer) are installed on top of the cover and the agitator inside the tank is driven by stirring shaft.
• Shaft sealing device can be used machine seal, packing seal or labyrinth seal, they are optional according to customer's need.
• Agitator type could be impeller, anchor, frame, spiral type, etc.