Rectangular Emulsifying Tank

PRODUCT DESCRIPTION
It is with the high-speed impeller as the stirring device installed at the bottom, which has good dissolution and emulsification effect on sugar, milk powder, and glue additives in production. It is currently the most productive equipment in emulsified tank products.
It is with a rectangular single-layer tank body, and the internal wall of the tank transition section is arc transition,  It is with a rectangular single-layer tank body, and the internal wall of the tank transition section is arc transition, no health comer, easy to clean. The tank body and lower head can be provided with insulation wall if required. Feed Port   Manhole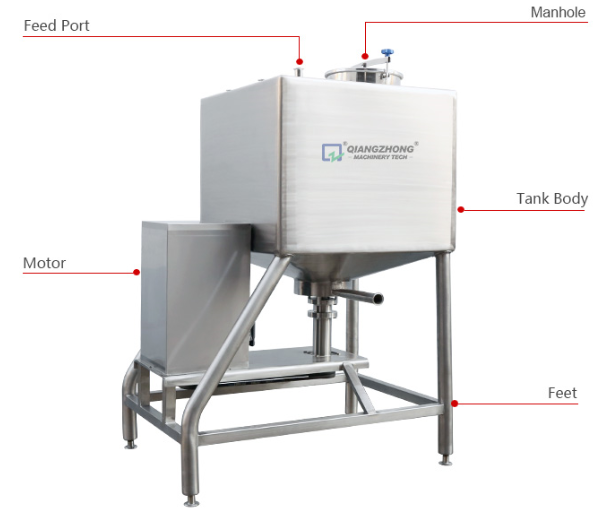 Optional Configuration
Sterile respirator, thermometer (digital or dial type), sight glass, sanitary hole, inlet and outlet holes, CIP swivel cleaning ball, sterile sampling valve, liquid level gauge and liquid level automatic control system (weighing module, non-contact ultrasonic, static pressure transducer), etc. It can also be configured according to customer requirements.
Typical Application
Applicable to food, dairy, beverage, biological engineering, pharmaceuticals, fine chemicals, pigments and other industries, making emulsions and mixtures inside the tank fully and quickly mixed, dispersed, emulsified and homogenized.
Product Features
.Tank capacity could be 600L 〜5.000L, which can be designed and manufactured according to needs of customers.
. Quick chuck interface and tank body is made of 304 or 316L stainless steel. The inner surface is mirror-polished Ra<0.28pm ~ 0.6pm and the outer surface can be polished, brushed, sandblasted or other treatment according to customer requirements.
. It adopts mechanical emulsification at the bottom, with claw-type bite and two-way sucking structure to avoid dead angle and vortex phenomenon caused by difficult suction of upper materials.
. High-speed stirring and emulsification can be used to mix, disperse, emulsify, and homogenize different emulsions and mixtures.
. The emulsifying shaft is sealed with sanitary mechanical seal. The emulsified motor can be a cycloid reducer, a stepless speed reducer, or customized according to customer requirements.
PRODUCT PARAMETERS

Technical file support: random provide equipment drawings (CAD), the installation drawing, the product quality certificate, installation and operating instructions, etc.
GJ WORKING PRINCIPLE
Its working principle is that the centrifugal force generated by the high-speed and strong rotating rotor of the emulsifying head throws the material into the narrow and precise gap between the stator and the rotor from the radial direction. The materials are simultaneously subjected to centrifugal extrusion and impact forces to be dispersed, mixed and emulsified. The tank has the advantages of humanized structure, customizable volume, easy operation, safety and hygiene, and stable operation. It integrates high-speed shearing, dispersion, homogenization and mixing.