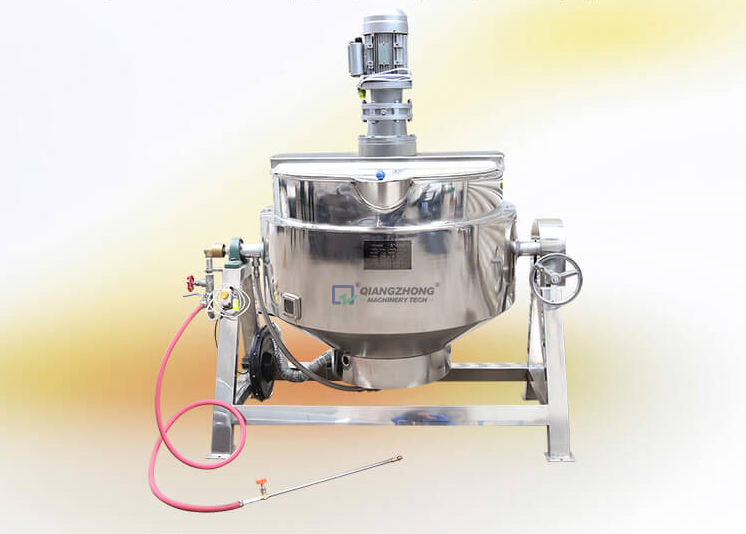 The jacketed kettle is also known as steam kettle, cooking kettle, jacketed steam kettle, mainly consists of kettle body and feet.
Tiltable Gas Heating Jacketed Kettle takes natural gas, liquefied gas or pipeline gas as a heat source, solving the problem of steam absence. All contact part is made of food-grade stainless steel 0Cr18Ni9, accord with requirements of national food law. The kettle is equipped with gas stove, and temperature control system or mixing device is optional. It has such advantages of a large heating area, high thermal efficiency, fast material-heating, uniform heating and easy to control heating temperature, and etc. The kettle is elegant appearance, easy installation, easy operation, safe and reliable.
●Tiltable gas heating jacketed kettle takes gas (liquefied gas, natural gas, artificial gas) as energy source, kettle can be overturned to pour out inner materials.
●The kettle is mainly made of austenitic stainless steel, accord with health requirements, elegant appearance, easy to use.
●Unique burner ensures well burning, high thermal efficiency.
Features:
●Full combustion, smoke-free and dust-free, a little carbon deposition, no environmental pollution.
●Flame temperature is adjustable by controlling intake air, up to 300 ℃.
●Reasonable structure, easy to use.
●High energy-saving, fierce fire, thermal efficiency is 25% higher than similar products
●Fuel: liquefied petroleum gas, pipeline gas, natural gas, oil is not allowed.
●Gas consumption is lower than similar products by about 20%.
Product Parameters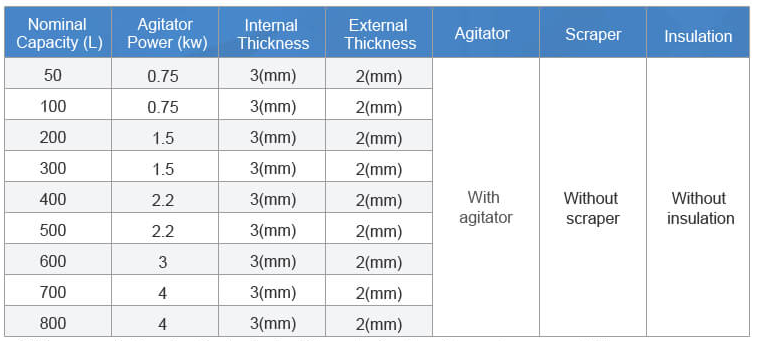 ● Mixing power in the chart is standard, while customized requirements are acceptable.
● Kettle work pressure ≤0.09Mpa and could be customized.
● In order to confirm most suitable jacketed kettle, please provide these information: nature of material, working pressure, working temperature, and any special requirements.
● File Support: structure drawings (PDF) and manual could be provided.
Product Structure
This kettle mainly consists of rack, kettle body, burner, agitation paddle, tilting equipment and gas pipeline. The rack is used for installing and fixing kettle body and other equipment. The kettle body is main part of making food and the burner is for heating kettle body. Agitation paddle can stir and fry food automatically instead of artificial agitator. The tilting equipment can overturn the kettle body, gas pipeline is for gas input and gas control.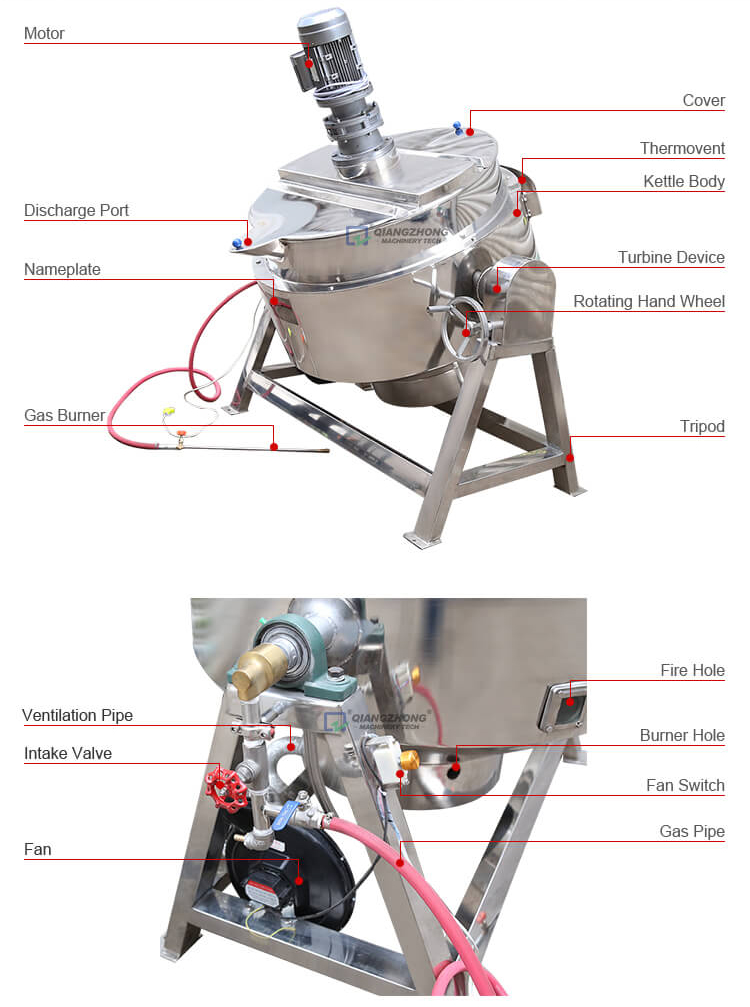 Operation Instructions:
First open gas valve, light gas and add cooking oil. Then add materials when the oil temperature reaches to cooking temperature, and manually pan and stir materials to make them evenly heated. After the materials processing is finished, turn off the gas and turn the handle. By turning the handle through the worm gear, the kettle body could be tilted, pouring the materials into another container.
● Structure Type: Tiltable Jacketed Kettle, Vertical (fixed) Jacketed Kettle
● Heating Type: Electric Heating Jacketed Kettle, Steam Heating Jacketed Kettle, Gas Heating Jacketed Kettle
● Mixing Type: with agitator, without agitator
● Whether to be with/without agitator depends on processing needs.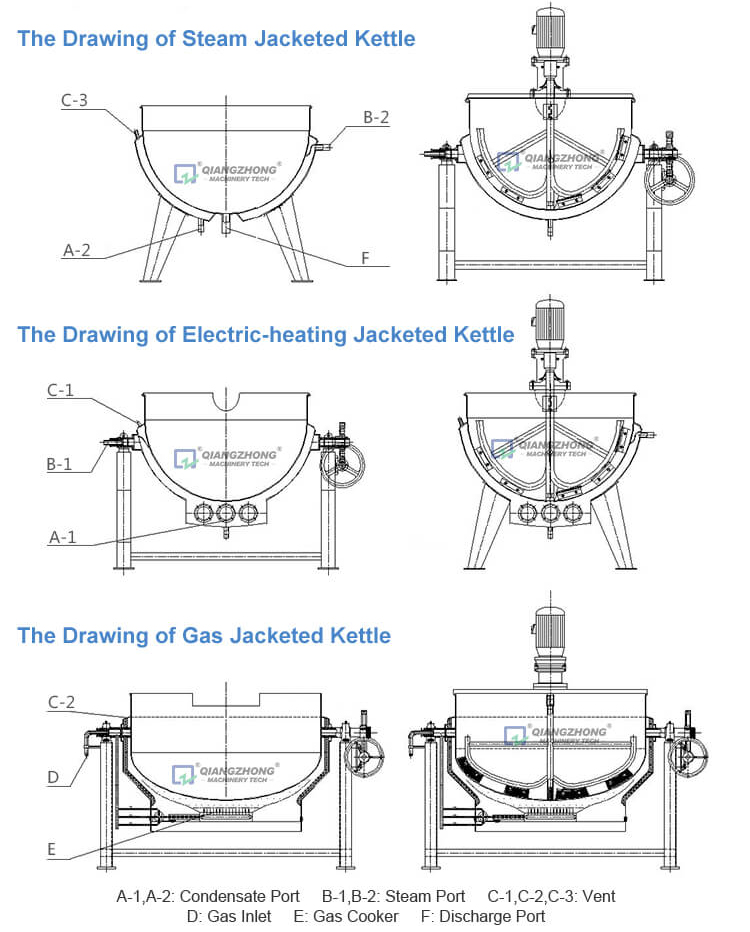 Product  Showcase