Electric-heating Vacuum Tank (high-feet type)
Widely used in industries of brewery, dairy products, beverage, daily chemicals, bio-pharmaceuticals, etc.Mix, disperse, emulsify, homogenize, transport, batch……
PRODUCT PARAMETERS
Technical file support: random provide equipment drawings (CAD), the installation drawing, the product quality certificate, installation and operating instructions, etc.

PRODUCT STRUCTURE
The mixing tank is used to mix, batch, emulsify and homogenize materials. According to the requirements of the production process, the structure and configuration of the equipment can be standardized or customized. During the mixing process, the user can control the feeding, discharging, stirring, etc. and the control mode can be manual control or automatic control.
The mixing tank is also known as the stirring tank or batching tank. It is widely used in coatings, medicine, building materials, chemicals, pigments, resins, food, scientific research and other industries. The equipment is made of stainless steel or carbon steel and it could added with heating or cooling functions to meet different process and production needs. The heating types include jacket electric heating, coil heating, steam heating, etc.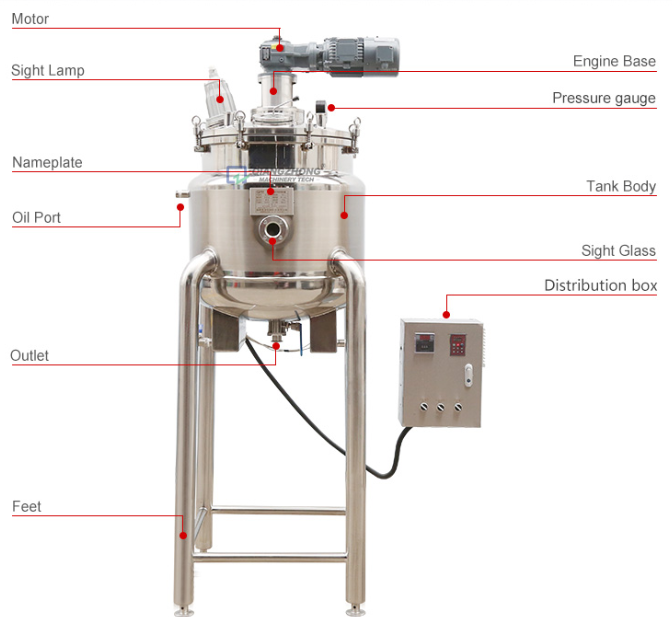 •The mixing tank mainly consists of tank body, cover, agitator, supporting feet, transmission device, shaft seal device, etc.
•Tank body, cover, agitator and shaft seal can be made of carbon steel, stainless steel or other materials according to specific requirements.
•The tank body and the cover can be connected by flange seal or welding. Also they could be with ports for purpose of feeding, discharging, observation, temperature measurement, pressure measurement, steam fractionation, safety vent, etc.
•The transmission device (a motor or a reducer) is installed on top of the cover, and it can drive the agitator inside the tank is by stirring shaft.
•The shaft seal can be used mechanical seal, packing seal or labyrinth seal as requested.
•The agitator type could be impeller, anchor, frame, spiral type, etc. according to the requirements of different application.